Villa on The Rocks - Llandudno
Llandudno - Cape Town Villa Accommodation
This magnificent self catering villa, situated in a nature reserve and directly fronting onto the Atlantic Ocean at Llandudno, offers stunning views across the bay. First impressions are of entering into a ship moored at the entrance to one of the Cape's most dramatic bays.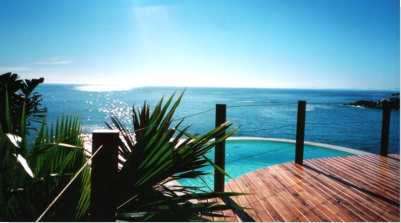 The twelve foot high pool wall shields this area from any potential observer from the rocks below, while offering an unobstructed view across the sea and bay. If one walks down from the villa onto the rocks, one is at the waters edge.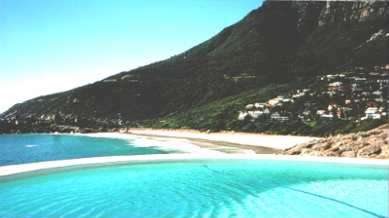 The four bedrooms and studio each have their own special vantage point. The villa also has two baths, four showers (plus one outside), six toilets, servant's room, automatic garage door, five levels, open plan living room and ample off street parking.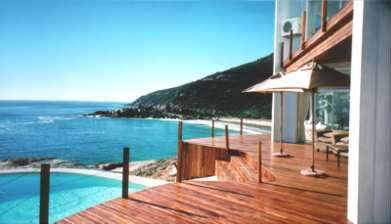 To bathe it is best to take the coastal foot path to the Llandudno beach. The south bound foot path takes one to the unspoilt haven of Sandy Bay. Alternatively, just stay at the villa and watch the ships, the surfers, if you are lucky, a porpoise or whale, and wait for another stunning evening on Sunset Rocks.
Rates
Seasons and Daily Rates

Peak

High

High-Peak

Low

Per Night
R 15,000
R 5,500
R 7,000
R 3,500
All Rates per Night

High Season: 15 Sept - 31 Oct

High to Peak Season: 01 Nov - 15 Dec

Peak Season: 15 Dec - 15 Jan

Low Season: 01 May - 15 Sept